Barf
Talk

0
53pages on
this wiki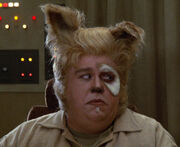 Barf
is a mawg, a half-man half-dog, and is
Lone Starr
's companion, (Barf notes that he is his own best friend). His name is short for Barfolomew. Barf is a parody of the Wookiee Chewbacca (Chewie).
He is played by John Candy in the movie but he does not provide the characters voice in the series due to his death. He often makes howling noises in the movie.
A bit of trivia on his name and race. In the Russian translation of the movie "a mawg" was rendered as "chelobakka", a portmanteau of words "chelovek" (a man) and "sobaka" (a dog) also spoofing the name Chewbacca.