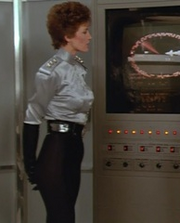 Commanderette Zircon is a character in Spaceballs as well as Spaceballs: The Animated Series. She was played by Leslie Bevis in the film. Julianne Grossman played her in three episodes of the tv series. Commanderette Zircon worked in Spaceball City. She has a habit of calling President Skroob at inconvenient times. When not working, one of her favorite activities involves getting "beamed" by Snotty. As a possible testament to her unfeminine demeanor, she does not appear offended when Snotty calls her, "sir".
Ad blocker interference detected!
Wikia is a free-to-use site that makes money from advertising. We have a modified experience for viewers using ad blockers

Wikia is not accessible if you've made further modifications. Remove the custom ad blocker rule(s) and the page will load as expected.