Dark Helmet
Talk

0
53pages on
this wiki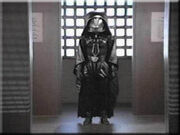 Dark Helmet
is first seen in the scene entitled "
Over His Helmet,
" in which he uses
the Schwartz
on one of his henchmen for going "over [his] helmet" by contacting
President Skroob
before he did, he also gets hurt alot (EX:the time he went flying into the small box with wires after being in ludicrous speed,doors closing on him,getting shot into the selfdestruct button), and is the spoof of Darth Vader. He was once
Panakin Crybaby
but became Dark Helmet because he needed the president to make a helmet for him to cover up a bump on his head (according to the animated series). He was also the roommate of one of
Lone Starr
's relatives. Dark Hemet met his ultimate defeat when Lone Starr blasted him into the self-destruct button and the ship exploded, landing the three villains on the
Planet of the Apes
. However, he returns in the animated series.